Electrical cable grinder-separator - mod. RC
A complete system for cable scrap separation. The system is very compact and comfortable to achieve final pure separated different materials of a cable.
Functioning of the system: cables are grinded to very fine homogeneous sizes and metals are automatically separated from inert materials.
In the result you have pure copper, aluminium or steel granules recovered from plastics and rubber.
When materials are already grinded, it is possible to use a simplified version of the equipment - only a separation part.
With different models it's possible to process from 120 up to 180 Kg/h of cables. Apart of standard version of 400 V is available a model of 200 V 3,5 KW.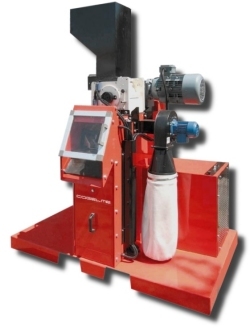 Electrical cable stripper - mod. SC
An ideal solution to separate copper, aluminium and other valuable metals from various cables.
The using of all models is very simple and fast and it allow in few seconds to process both low and wide diameter cables: form 3 to 100 mm diameter.
Cogelme cables stripper has an anti-block system to avoid knives ruining in case of cables junctions. Regulation of the knives is motorized and easily adapts to different thickness of the covers.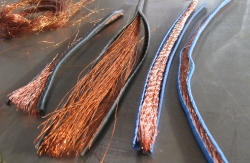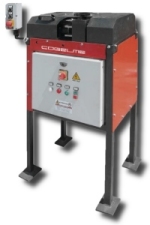 Visit our New site WWW.COGELME.IT