With permanent magnets in Ferrite or Neodymium - mod. PIM
Are usually used as safety systems for the machines or particular production processes.
With the magnets inside these equipments - of Ferrite or of Neodimyum -, it's possible to separate from big pieces to powder of iron.
These systems of separation are very flexible and they can be adapted easily to the already existing equipments.
Thei usage is suggested in the cases when there is a little amount of iron to separate.
Usually they are put over the conveyor tapes or canals, but it's also possible to put them under the canals or on the failling trajectory of the material that must be cleaned.
The cleaning of the magnets has to be made manually.
Usually the magnetic bars are placed in one stainless steel sealed box and that's why this syatem can also be used for production of food.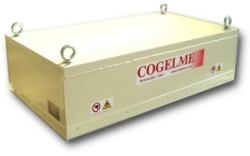 Visit our New site WWW.COGELME.IT